Posted by
Samurai Appliance Repair Man
, in
Refrigerator Repair
16 September 2011 · 1,623 views
This is kind of a funky little condenser fan motor kit to install and can be confusing, especially since the kit doesn't come with destructions.
Here's the condenser fan motor kit ==>
http://www.repaircli...2002738/1256875
Just be sure to use wire ties to secure fan motor leads back away from fan motor blade. This will prevent leads from blocking condenser fan blade.
Master Willie offers some additional insight and analysis:
I've never had to do one of these but from all I can see in the pictures it does appear that the three metal arms screw to the new plastic motor. It looks like the flat end of the arms have a hole in that end and would screw directly onto the new motor like the old big A/C condenser fan motors, (maybe using the rubber bushings, do they have a metal insert inside the bushings so you can't tighten them down too hard? It doesn't really look like they do).


From the RepairClinic picture it doesn't look like it comes with screws so maybe the three screws that held the old motor mounting shroud on are used to hold the arms on the motor.

Then it would appear that the "L" shaped end of each arm should screw to the flat sheet metal plate that is still in the refrig compressor compartment, but as you say there are no screw holes in that end of the arm. The picture doesn't show that end of the mounting arms, is that end a flat the same width as the rest of the arm or are those "L" ends just a small metal tab on the end of each arm? if they are just a small tab maybe they just slide into the screw holes that held the plastic motor mounting shroud in place, (put them in first then screw the motor in place on the end of the arms).

Not obvious what the tie straps are for and if the "L" ends are tabs and just slide thru the original three screw holes, (they look to long to hold it tight against the metal mounting plate), then maybe the wire ties are used somehow to hold the motor and new brackets up solid against the sheet metal mounting plate.

EDITED TO ADD THE FOLLOWING WHICH I BELIEVE IS THE CORRECT MOUNTING.

The other possibility is the three arms mount direct to the new plastic motor and the three rubber bushings push into the flat sheet metal mounting plate, (it would appear they would be to big to fit the original holes so maybe you have to drill the old mounting screw holes out large enough to accept the rubber bushings and the "L" tab end of the brackets mount in the rubber bushings).

Found another model that uses the same fan shroud that had the old big A/C condenser motor and it mounts in the way described above and looking up the fan motor on another site shows that it does in-fact come with three screws to mount the arms onto the fan motor. It also appears that there maybe two sets of mounting holes in the fan shroud, three small ones for the screws to mount the plastic fan holder and three larger ones that accept the mounting grommets. Looks like the "L" tab end of the arms are just the right length to hold tight in the rubber mounting grommets so don't really know what the tie straps would be for.

See Amana model# XRBS209BWR (click the picture and you can see better detail of the two different size holes in the fan shroud, one for grommets the other for screws. Part ref#5 in this picture are the rubber mounting grommets.)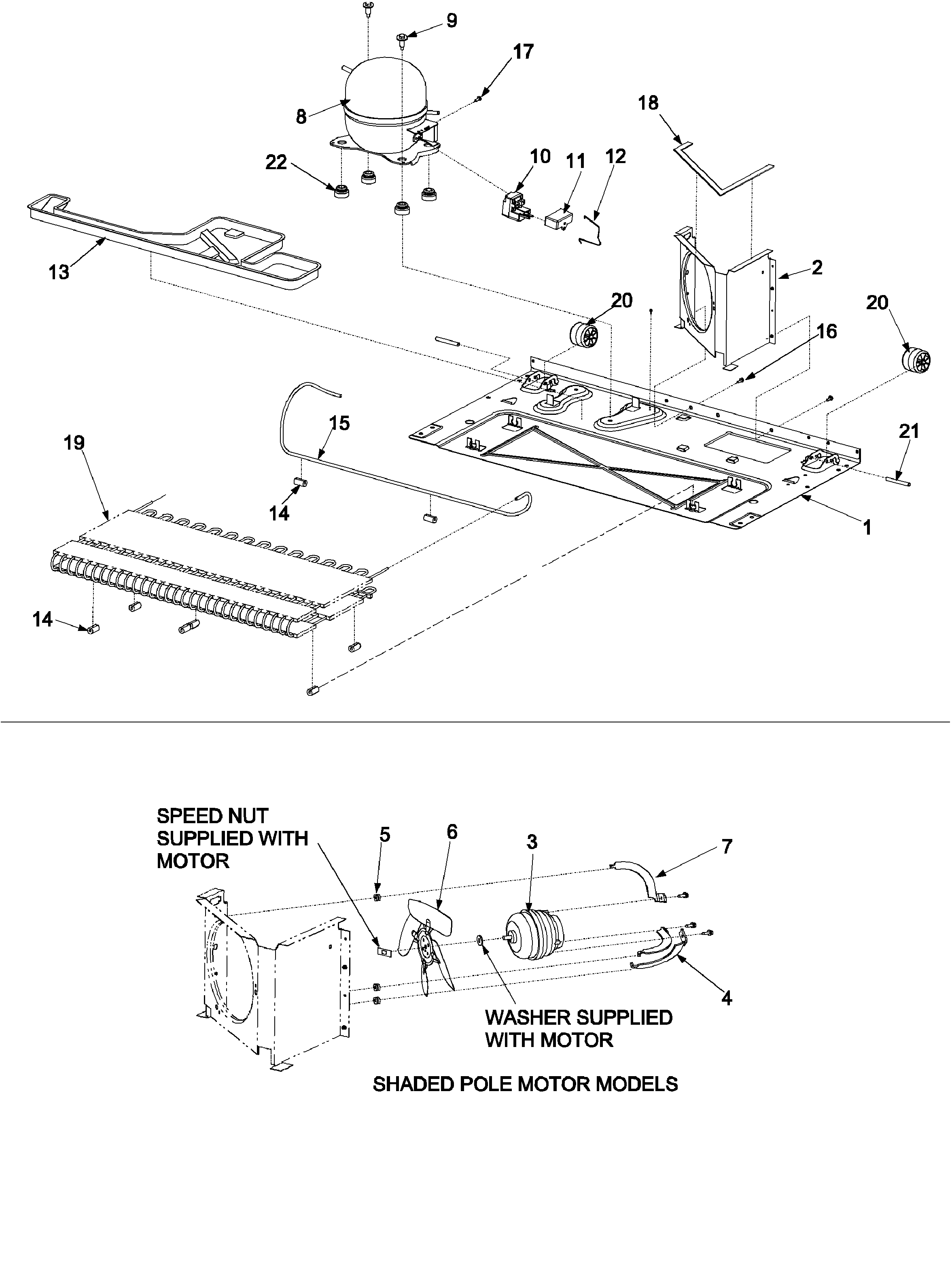 Source:
kenmore 59652673202 Fridge