1
LG Refrigerator Compressor Start Relay Madness
LG
refrigerator
start relay
compressor
Every now and then, you run into a real
CF
when you're trying to order a part to fix an appliance. A case in point is trying to get a start relay kit for some models of LG refrigerators, such as the LFX25960ST.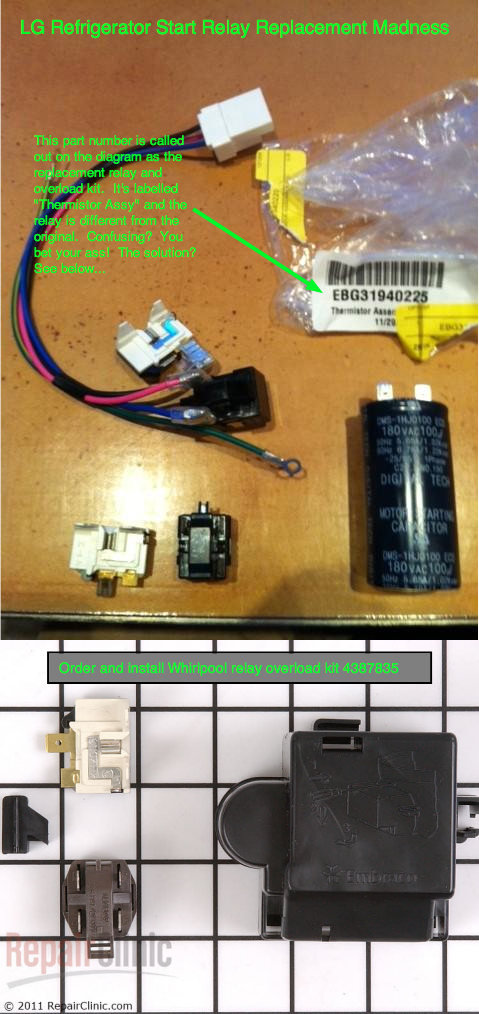 Grand Master kdog, adept extroidinaire of all things appliance repair, explains how to de-frak this mess:
I had the exact issue with the same model # before - this got me out of it.

The components do not all show up on the literature - at the time I was working for a very large company that had alot of pull with LG and I begged them to contact LG to correct this issue for future folks that get caught.

I did not replace the capacitor as it was not required
One of the prongs on the relay will just be unused - no biggie, I knew this because i was sent to the fridge with a control board that had been ordered and overnighted (very costly delivery) - just to find out there was no issue with the board, can't just look at the lady and say I need to order parts again (no fridge!), rummage around in truck and find replacement by eyeball matchup (no app for that).

I should expand on that a bit - I recognized the particular model of Embraco compressor that I have seen many times in W/P built fridges and went from there.

Relay terminals are all numbered
Here's the link to the start relay you need ==>
http://www.repaircli.../4387835/586449
Source:
LG Fridge Model# LFX25960ST, Totally Stumped!