1
How to Replace a Radiant Burner in a Jenn-Air Glass Electric Cooktop
Jenn-Air
jennair
cook-top
cook top
from the service manual:

Main Top Removal
1. Disconnect power to cooktop.
2 Remove cooktop from installation position and place face down on protected surface.
3. Remove screws securing main top to burner box bottom.
4. Remove screws securing control panel box and conduit mounting plate to burner box assembly.
5. Remove main top.
6. Reverse procedure to reassemble, verifying that cooktop frame is properly aligned.
NOTE: Make sure the pieces of insulation, located in the front left and right rear corners,
are put back in place.
Failure to do so could create excessive cabinet temperatures.

Part link for the replacement burner ==>
http://www.repaircli...mber=JEC0536ADB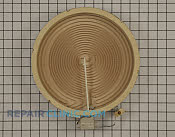 To learn more about your cooktop or to order parts, click here.
Source:
JennAir Glass Cook Top Model# JEC0536ADB, Replacing Burner, How to Remove Top?