2
Cause discovered for cracked drums on LG dryers?
Posted by
Samurai Appliance Repair Man
, in
Dryer Repair
08 June 2013 · 2,391 views
LG
dryer
drum
Brother nickfixit shares these observations from the field on what may well be the cause for the infamous cracked drum problem with LG dryers. Something to watch for...
I noticed something on a LG dryer the other day. It was stacked, so I ordered parts and scheduled it with a helper. We took it down and tore it apart to install new rollers, belt, and pulley, The left side roller on the front bulkhead was totally destroyed. I replaced it with the shaft/pulley assembly and just the rollers on the other 3, cleaned and lubed of course. We put it together and tested it. It had a pretty solid drum seam thump when running.

We took it back apart and I found the drum did not touch the right front roller at all, maybe 3/8" or more gap. When I checked the panel I noticed there are 2 holes in the area of that rollers shaft location. The dryer was kinda toasted inside so there was a clear mark where the shaft was mounted, so we are certain the new shaft was in the same location the factory had used. I move the shaft to the other hole and the dryer ran smooth and quiet.

I wonder how often the factory uses the wrong hole, and this might be causing the cracked drums. In the wrong position, that roller does nothing, and the left hand roller bears all the weight in the front. The excess load on a single point working on that seam could be causing the cracking, at least in some cases.

Nick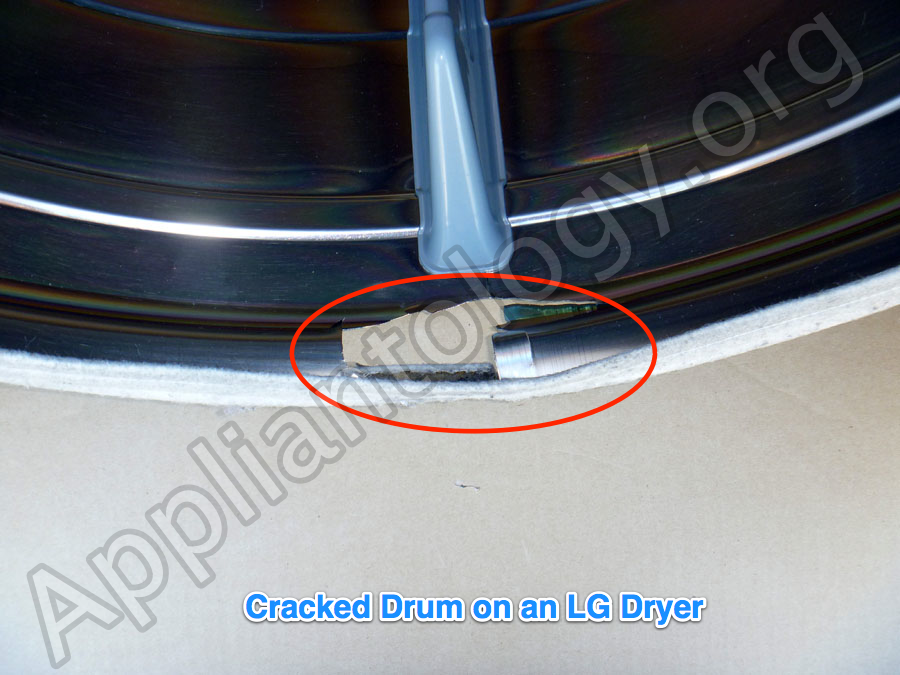 Source:
Cracked drums on LG dryers