Parts Search
FAQs | Store | Memberships | Repair Videos | Academy | Newsletter | Beer Fund | Contact | Podcast

0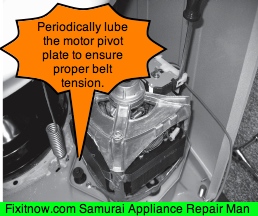 Sluggish spin and/or agitate in this washer? One of the first things to check is the pivot plate. If it's sticking, the motor mounting spring won't put enough tension on the belt and it'll slip on the pulleys (and burn up the belts) instead of doing the bidness of working that agitator and inner basket!
FAQs | Store | Memberships | Repair Videos | Academy | Newsletter | Beer Fund | Contact | Podcast
Use the Appliantology Parts Finder to Get What You Need!
Enter a
model number
, part number, type of appliance, brand, or even a part description.
365-day return policy on all parts purchased here, even electrical parts that have been installed!
Your Sometimes-Lucid Host:



"If I can't help you fix your appliance and make you 100% satisfied, I will come to your home and slice open my belly,
spilling my steaming entrails onto your floor."
Maytag Atlantis Washer Motor Pivot Plate