John63, it amazes me how much you know about these things!
I removed the cover and first thing i noticed was how much lint was inside the dryer within this area. Is this normal?
I looked around but did not see any foreign objects which could be obstructing the wheel. It looked good. I even tried spinning the drum and i can see the mechanics moving fine. The belt looked in place.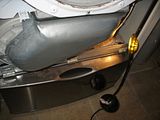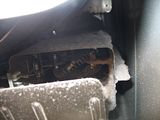 Perhaps i should reconnect the door plug, reattach the main board case and then START the dryer and watch / listen for the buzz? Though i dont want to start anything until i get the go ahead.