Our very old [1997?] Whirlpool LGC8858EQ1 dryer stinks.

By "stink" I mean it actually smells....I am thinking its because the belt has quit and the it just getting smoked by the motor/pulley rotation/friction?

When we turn on the dryer, it "sounds" like it wants to spin [and actually did at some point] , but it doesn't now. This lack of rotation is accompanied by a horrid smell....I think its the drive belt: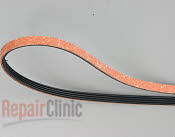 http://www.repaircli...mber=LGC8858EQ1


Correct diagnose by a noob?