Hi, guys I got another samsung SxS with the same type problem as a french door model I had last week. I'm going to try to attach the image I took with my phone. Anyways it accumulates ice build up on the evap line coming into the fridge(fridge side not freezer) and builds up enough to cause it to hit the fan. which in turn stops the fridge from cooling. I defrosted it for them while i ordered some parts but the two big issues I have is:
1. No service manual* and I could not get it to go into a manual defrost
2. Heater, bimetal, and fuse all ohm out as working(about 99.9-101ohms on heater)
I dont like working on samsung but I have a decent customer base due to it and no one else will touch them here.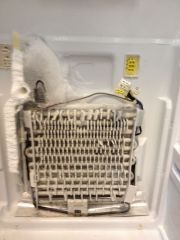 *I have ordered a service manual on CD and would like for you guys to put in the stash so others may use it. Of course after I recieve it.
Edited by benzonaruckus, 04 April 2012 - 07:57 PM.