I'm almost embarrassed to ask this question—I mean, how hard can it be to stick an oven in a cabinet, right?
Well, the oven is in the cabinet, and it's working. But I'm having difficulty installing these trim pieces that go on the left and right side of the oven.
This first picture shows the oven vent and the side of the oven where the trim piece is supposed to go. There's a tab the sticks up on the vent, and it's not clear to me if the trim piece is supposed to go on the inside or outside of that tab.
I tried both ways, and it doesn't seem to fit either way.
Please take a look at the 2nd photo and see if that looks right to you.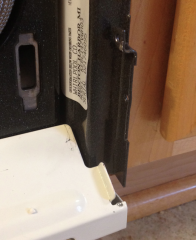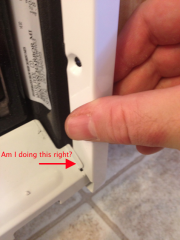 Edited by steveklein, 05 June 2012 - 08:47 PM.