In this excursion into appliance repair excellence, the Samurai shows you how to locate the source of a leak in a Maytag Bravos washing machine and how to fix it. In case you didn't figure it out from the title of this post, the Maytag Bravos, Whirlpool Cabrio, and Kenmore Oasis washers are all the same machine so this sublime repair kata applies to all three.

Observe the technique of the Master:

c

Here's the drain pump I used to fix this washer ==> http://www.repaircli...275?RCAID=24038

In stock and ready to ship...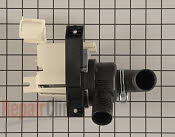 And this video has more detailed replacement procedures:



You can find whatever appliance part you need through the parts search box right here at The Appliantology Academy. No harm in buying and trying with our 365-day, no-hassle return policy, even on electrical parts that were installed!

Subscribe to our FREE, award-winning newsletter, Appliantology: The Oracle of Appliance Enlightenment ==>http://newsletter.appliantology.org and download your free report on appliance brand recommendations! Every issue is jam-packed with appliance repair tips and inside information direct from the Samurai's fingertips to your engorged and tingling eyeballs.

The Appliance Guru provides prompt, convenient service in the following towns in New Hampshire: New London, Elkins, Wilmot, Springfield, Georges Mills, Sunapee, Mt. Sunapee, Newbury, Sutton, Bradford, Warner, Grantham, and the Eastman Community. Visit our website for more info and a discount coupon on your next service call ==> http://applianceguru.com