Sometimes, when troubleshooting an appliance, you don't need no fancy stinking meters or snot-nosed wiring diagrams-- you just need to know what to look for. Watch in shock and awe as Samurai Appliance Repair Man uses his keen sixth-sense of appliantology to feast his bloodshot squinties right on the problem in this electric oven that stopped heating.
Here are the ceramic wire nuts I used to fix this problem:
http://www.repaircli...ts/T1165/241068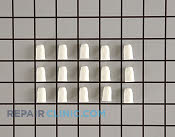 You can find whatever appliance part you need through the parts search box right here at The Appliantology Academy. No harm in buying and trying with our 365-day, no-hassle return policy, even on electrical parts that were installed!
Subscribe to our FREE, award-winning newsletter, Appliantology: The Oracle of Appliance Enlightenment ==>
http://newsletter.appliantology.org
and download your free report on appliance brand recommendations! Every issue is jam-packed with appliance repair tips and inside information direct from the Samurai's fingertips to your engorged and tingling eyeballs.
The Appliance Guru provides prompt, convenient service in the following towns in New Hampshire: New London, Elkins, Wilmot, Springfield, Georges Mills, Sunapee, Mt. Sunapee, Newbury, Sutton, Bradford, Warner, Grantham, and the Eastman Community. Visit our website for more info and a discount coupon on your next service call ==>
http://applianceguru.com