Moushiwake arimasen Sensei. Even though the first thing I checked, even before I opened the cabinet, was the thermal fuse. I must have not checked correctly. It is bad. Your time was not wasted on me though as I did learn from your guidance. Your humble apprentice.
Thermal fuse part link ==> http://www.repaircli...4120900/1489053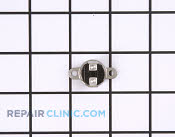 Edited by Samurai Appliance Repair Man, 02 March 2013 - 06:12 PM.
Added part link.