Greetings all and fortunately, this is a tale of success however since my symptoms were slightly different than previous warriors, I thought I would post my story.
My washing machine began displaying the LR code occasionally. I was usually able to get it to finish the load by unplugging and allowing proper rest time. I knew there were issues on the horizon but I managed to limp by until last weekend. I put my last load into the machine and this time, it refused to finish it's job. I started my research and found a few different scenarios but all of them seemed to result in purchasing the controller and motor kit. My serial number starts with B7 and I'm not sure what year it is or any of that good stuff especially since I basically got the machine for free. It has been a great washer for myself and 3 children so I really hated the idea of replacing it. My wallet also resented the idea.
I performed the spin diagnostic with no errors. As a matter of fact, I utilized this to get a couple of loads finished during it's period of non -cooperation. The agitation portion of the sequence worked fine as did the quick cycle diag.
I checked the leads across the water valves and they appeared fine. I also checked the motor for resistance values according to the diag sheet, which checked out.
I pulled the control board and only noticed a few oddity's. One of the large capacitors appeared to be bulging (I have replaced bulging caps on motherboards when there was a rash of them a few years ago) and I also had some residue on a few resistors that resembled a leaky battery.
At this point I was kind of at a loss but took the advice given to so many with the same issue and ordered the kit overnight shipping. I figured worse case, I was out the cost of shipping if my decision was incorrect.
I ordered the kit around 7pm and it arrived at 11am the next day. I can't say enough about the help and quality customer service that RepairClinic.com provides.
I replaced the components in about 45 minutes following the instruction sheet provided. There were a few changes with the kit I received so I wanted to comment on that.
The default connection to the control board which I believe is labeled as "main" would fit with my existing connnection however this would bypass the newly added ac filter. I tried it this way and the spin diag worked fine. I felt like I should follow the instructions however so I pulled the molex connection apart and made the filter part of the circuit as advised. I retained everything just in case I needed to bypass it for some reason but I feel comfortable with following the instructions.
I already finished my first load since the repair and all appears sound.
Tripper
Drive Motor and Control Board kit ==> http://www.repaircli...mber=MAH5500BWQ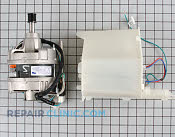 Edited by Samurai Appliance Repair Man, 02 March 2013 - 10:33 AM.
Added part link to the drive motor kit