I come to the dojo seaking knowledge and harmony.
This is a Bosch dishwasher, well over 5 years old. It started staining the dish tray about 4 months ago. Just noticed the bottom of the plates started getting the same stain. Is this rust or overheating thermal stress? I run about 10-12 loads a week in this thing. I live in Austin, TX which is primarly limestone (not much if any iron). I use the Quantum Finish Powerball detergent pucks. The house has a beefy whole house water filter which catches most of the lime and chlorene coming in from the water supply.
Model number is SHU9922UC
Thanks for your wisdom!
Stagr.Lee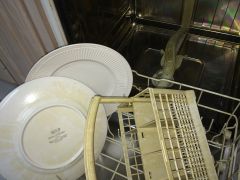 Edited by stagr.lee, 14 February 2014 - 03:06 PM.