How to Know the Limits of What You Can Troubleshoot
---
There's a goal that any tech worth his salt should have when he heads into a service call: troubleshoot the machine until he has logically and definitively located the problem.
Most of the time this goal is achievable, as long as you have the documentation for the appliance you're working on. You can take measurements and compare them with the specifications from the manufacturer until you find what's not within specifications. This is called analytical troubleshooting and is, in fact, the only way to properly troubleshoot. If you don't know what a "good" measurement should look like, then how are you going to tell when one is "bad"?
To be clear: analytical troubleshooting is getting a number from an electrical measurement and comparing it to a number in the specifications. You can't compare something to nothing!
Life ain't perfect, and sometimes we run into situations where the manufacturers omit vital specifications. Here's an example: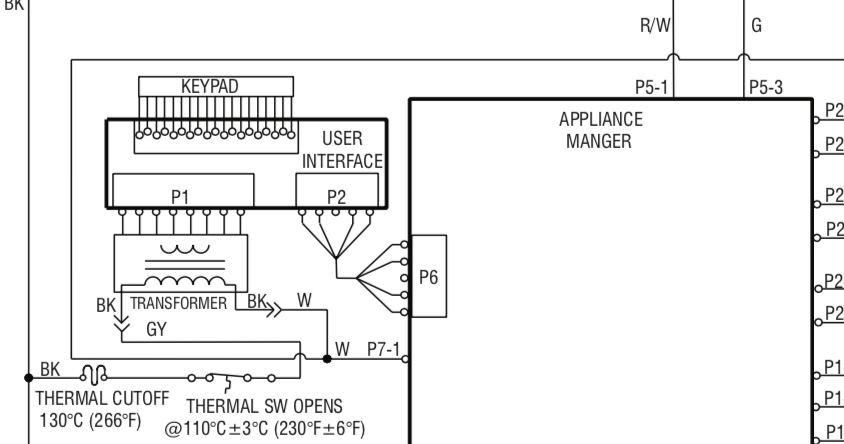 Look at those connectors between the keypad, the UI board, and the appliance manager (the main control board). No labels whatsoever, nothing anywhere telling us what's happening on any of those wires. All the information we get from this is that there are harnesses connecting those components -- never would have guessed that!
This is a serious problem if you're trying to analytically troubleshoot any kind of data communications problem. Got an unresponsive keypad? Good luck figuring out which line corresponds with which pad. Got a weird logic problem? Nothing on this schematic (or the rest of the tech sheet) tells you what data you should read on any of those lines.
What do you do in situations like this?
The only sane thing to do is to stop your troubleshooting where the specifications stop. You narrow down the problem as much as you can, and then you make a repair that will cover all the bases that are left. Sometimes this will mean replacing multiple components, because it's impossible to track down the issue to just one of them. Recognizing where the specifications stop is just as important as looking for them in the first place!
I know, I know, it feels PCM-y, but it's not. You've done your job to the best of your ability, and it's not your fault that the manufacturer didn't give you enough info to troubleshoot further. Rather than making your "best guess" at which of the possible two or three parts needs replacing, you make the best move for yourself and the customer and go for the surefire fix. It makes the customer happy, and it keeps you from bankrupting yourself on botched repairs.
We're going to be covering these kinds of tough troubleshooting decisions and much more in a webinar this coming Sunday! Click below for details.
10