How to fix Whirlpool Duet steam washer F35 errors
Entry posted by Samurai Appliance Repair Man ·
2,515 views
... F35 codes. That code seems to relate to the steam process.

F35

ANALOG PRESSURE SENSOR FAILURE

If this failure is displayed, there is any malfunction of the steamer

component detected by the Steamer Electronic Board.

Possible Causes/Procedure

1) Check if pressure hose is fi xed correctly.

2) Check if the airtrap is not blocked.

3) Check if the hose is not blocked.
If all the above fails, you need to replace the pressure switch: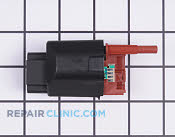 Click to buy. One year warranty.
Source: Whirlpool Duet Steam F35 errors