How to Changeout a Shaft and Mode Shifter Assembly on a GE Top Loading Washer
Entry posted by Samurai Appliance Repair Man ·
5,930 views
The shaft and mode shifter assembly is used on the GE "Hydrowave" line of top loading washers. These washers has the motor with the inverter board mounted on top of it. The inverter board has an LED that flashes on and off according to an error condition or standby that it's reporting. See the table below:
As you can see above, if the LED on the perverter board is flashes in a sequence of four flashes, this indicates a problem with the mode shifter circuit or mechanism. More info on accessing the motor perverter board in this post. For a detailed explanation of the mode shifter, what it does and how it works, see this post.
Replacing the mode shifter assembly is not a bad job at all. Here's the part link from RepairClinic with a one-year return policy ==> http://www.repaircli...8X10017/1475792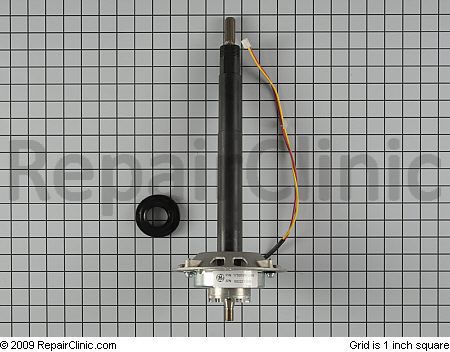 Excerpts from the GE service manual for this repair are on this page.
Here's a simplified video on how to do it:
And here are some worthy, enriching comments from a couple of Appliantological masters in the forums:
As the Samurai says this is not a bad job. I have done 5 or 6. I allow for about an hour to complete this job. A little longer if this is your first one.

After watching the video, a couple of points:

- I have never removed the Control Panel, Control Panel Bracket and Rear Panel. Although I can see that it would make it a little easier.

- For the Hub Nut, I bought a 1-11/16" three quarter inch drive socket and an 18" extension from Tractor Supply that was fairly inexpensive. That coupled with an electric impact wrench makes quick work of that hub nut. Also, TWICE I got a call that a tub was loose after a previous Tech had done a Mode Shifter. Both times I put that Impact onto the Hub Nut and that solved it.

- The Drive Pulley has never come off that easy for me. The way that was showed to me is to grab the pulley and lift up with one hand and strike the pulley near the shaft with a hammer and the pulley just pops off.

- MAKE SURE that you put all of the Wire Retainers back into their correct holes. This was a Mistake that I MADE and it cost me a Control Board. The wires moving back and forth from the action of the tub wore the coating off the wires, shorted to ground and took out the Control.
Piece o cake...I agree, about an hour...quicker if ya do a few.

my tip, the belt on these is a bitch to get on...zip tie the belt to the big pulley to assist keeping it in place as you run it on...then cut it off, of course.

You'll do fine...