Troubleshooting a Frigidaire Dishwasher with the Spray Arm Re-Direct Check Ball
Entry posted by Samurai Appliance Repair Man ·
3,735 views
If you're having washability problems with this funkified Frigidaire-design dishwasher that uses a check ball to alternate the spray between the upper and lower spray arms, Professor Willies explains the basic operation:
You can simulate the pause of the control to check if the spray arm switch from bottom to top and you can tell by the sound change that the top arm is routing instead of the lower arm, (top arm spraying against door is louder).

Start the unit up and let it run for about two minutes then carefully pull in on the door handle for about 1/2 second and release so it while holding door shut. This creates a pause just like the timer/control board would do.

The pump has to run for at least around two minutes with the lower arm spraying before you can try to switch to the upper arm because there is a bleed hole that water can slowly bypass the check ball thus filling the tube that runs to the upper spray arm up with water that will come rushing back down the tube and re-seat the check ball against the lower spray arm outlet then the pump starts again and pushing the check ball against the lower arm outlet and water flows to upper arm.

To switch from upper arm to lower arm there is a longer pause because it has to let the water complete empty back down the tube and let the check ball settle back down on the lower end of the ramp before starting up the pump again and sealing the check ball against the upper arm outlet.
And Grand Master kdog offers this experiential wisdom:
I have seen several of these balls 'wear out" - often they become almost oblong and bind in the track
Here's the replacement electronic control ==> http://www.repairclinic.com/PartDetail/Main-Control-Board/154806401/1793650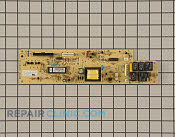 And here are the various ball and housing parts: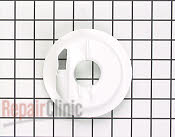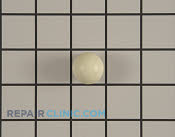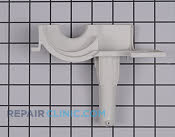 Source: Frigidaire D.W. Model# DGBD2432KF1, Service Manual Request