How to replace the Oil Seal Kit for gearcase input shaft on a Whirlpool Direct Drive Washer
Entry posted by Samurai Appliance Repair Man ·
4,244 views
Y'all go grab a brewski and kick back while Professor jumtrout 'splains it to us...
Remove the cabinet.

Lay the machine on its back.

Remove the pump and motor.

Remove the drive coupling on the transmission.

Remove the motor mounting plate from the transmission.

Remove the seal as described below...

To remove the seal,I use a drywall screw.

Use your electric drill to run the screw in at the 2 o'clock position through the seal.

The screw will hit the gearing behind the seal and pull the seal out.

Use a 3/4 socket to seat the new seal.
And here's the part link for the oil seal kit you'll need ==> http://www.repairclinic.com/PartDetail/Oil-Seal/285352/470681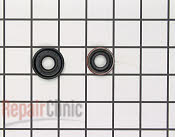 The kit comes with two different seals so it can work with different Whirlpool-built D/D transmissions. Use the one that's made for your transmission. Match 'em up by sight.
1