Refrigerator Checklist - Spring 2013
Entry posted by Samurai Appliance Repair Man ·
3,707 views
Spring 2013 is finally here! When I think about spring, I think, "Oh, goodie: Refrigerator Season!" Why do I get excited and squeal like a little piglet in a donut shop about Refrigerator Season? Because I know my phone is about to explode with a whole lotta high-dolla warm refrigerator repair calls. Here are five simple things you can do to your refrigerator right now to keep your beer tooth-crackin' cold right on through the up-coming summer heat wave.
1. Clean your refrigerator condenser
shows you the basic condenser cleaning technique for most refrigerators. A
special vacuum hose attachment
and a
condenser cleaning brush
will help you kick some condenser bootay without risking damage to the tubing and causing a refrigerant leak.
2. Clean, gap-check, and replace-as-needed your refrigerator door gaskets
Use some Simple Green to wipe down the door gaskets and their mating surface on the refrigerator cabinet. Check for gaps, tears, or sags all the way around the perimeter of the door where the gasket meets the cabinet. If you see any gaps or damage to the gaskets, it's time to replace 'em. RepairClinic carries a complete line of replacement gaskets for all brands and models of refrigerators, all with a one year guarantee.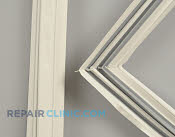 3. If your refrigerator has a digital display, make sure it's plugged into a surge suppressor
A digital display on a refrigerator (or any appliance) is a sure sign that it has at least one electronic control board in it. These electronic boards are just like the electronic boards used in your computer and they are subject to the same vulnerabilities as your computer. And, just like you would always use a surge suppressor to protect your computer from voltage spikes and other junk coming in on the power lines, you need to do the same thing with your home appliances that use electronic boards, which include almost all appliances manufactured within the last few years.
4. Replace your refrigerator water filter
This will both protect you from gookus in the water as well as prevent flow and pressure problems with your dispenser or ice maker. We carry a complete line of refrigerator water filters for all brands and models all at great prices and conveniently delivered to right to your home.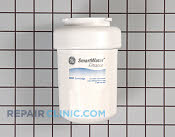 5. Beat the stink!
With warmer temperatures come more odors. Use this inexpensive refrigerator deodorizer to gobble up odors in your refrigerator and keep it smelling clean and fresh.
To learn more about your refrigerator or to order parts, click here.
1