Troubleshooting tip for Whirlpool inverter-type microwave ovens with an F7 error code
Entry posted by Samurai Appliance Repair Man ·
7,159 views
The high voltage system in microwave ovens is used to power the magnetron and generate the microwave sound energy that cooks the food. This voltage is in the range of 2,000 vdc. There are two ways of producing this high voltage. The older, conventional way is using a high voltage transformer, capacitor and rectifier. This is a pretty reliable configuration and easy to troubleshoot and repair.
The other way of producing the high voltage for the magnetron is using an inverter board. These are ofter nightmares to troubleshoot and expensive to repair.
In these Whirlpool inverter-type microwaves (built by Panasonic), the F7 error code indicates a problem with the inverter board.
Sometimes you may see a burned spot on the inverter board confirming the error code. But absent any visual confirmation like that, Brothers JJ Surfer and Chat_in_FL offer this heads-up when troubleshooting Whirlpool inverter-type microwave ovens that throw an F7 error code.
Be careful.. I've had a bad mag throw the same error, I would check mag for shorts and continuity first before ordering inverter board, high limit t-stat on cavity or mag could cause dead condition (no display) although I don't think those reset.
As JJ Surfer just said: Also check magnetron terminals to ground. After replacing the inverter and control board, I've found a shorted mag will also give you this F-7 error code, indicated by pulsing power to the mag just before the error code is displayed...
Test the magnetron by ohming between the terminals, should be very low resistance, typically less than an ohm. Then check from one of the terminals to the magentron casing. Should wide open-- if you read continuity or some resistance, then the magnetron is bad.
If the magnetron checks good, you can get the replacement inverter board here:
1100 watt Inverter board: http://www.repaircli...mber=GH6177XPS5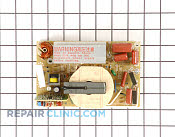 40 watt Inverter board: http://www.repaircli...mber=GH6177XPS5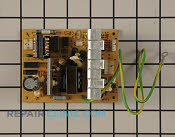 Source: Whirlpool Microwave