What's wrong with this picture?
Entry posted by Samurai Appliance Repair Man ·
2,786 views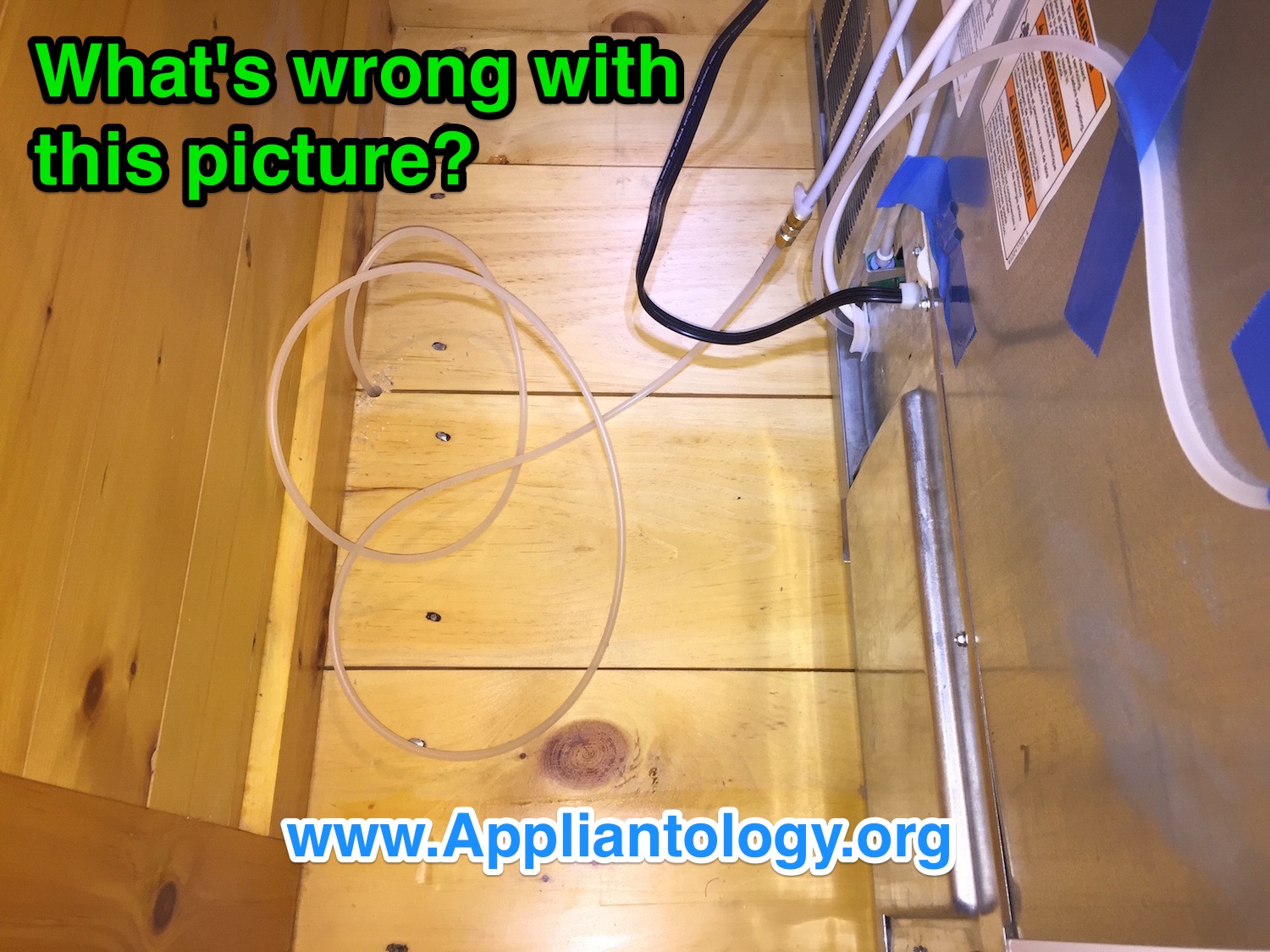 This is a picture from a recent service call I did. That white/translucent plastic tubing you see coming out of the floor and connecting to the gray PEX tubing on the refrigerator is a big No-No. That's a flood waiting to happen. Think about it: that plastic tubing us under household water pressure 24/7-- that's 40 to 60 psi. Combine that with with the fact that it gets hot behind a refrigerator that's pushed back against the wall, especially in summer.
Heat... plastic... brittle... cracked or burst plastic tubing.
And what's to stop the water from spraying out at household pressure when (not if) that plastic tubing breaks? Ain't but one thing: your hand on the shut off valve to stop the water flow.
What if you can't find the shut off valve to stop the water flow because the plumber installed it in a weird location or the house has been renovated since the water line was installed and the valve is inaccessible?
What if you can't reach the shut off valve because it's up behind a drop ceiling and you can't find the ladder during the panic to stop the water?
What happens if you're not home when that cheap plastic tubing bursts, as it inevitably will given enough heat and time?
You get the idea. So how do you avoid all this unpleasantness? Any water supply line or tubing in your house that's under continuous household pressure should only be one of three things: copper, steel-braided flex line, or PEX.
Now, if the plastic water tubing were AFTER the refrigerator's water inlet valve, as is commonly the case with older refrigerators, not such a big deal because 1) the tubing is not under continuous pressure; it's only under pressure when the solenoid valve opens which 2) only occurs for several seconds every couple of hours or so for the ice maker or on-demand for the water dispenser.
Moral of the story: plastic and household plumbing don't mix.
6