New FREE Short Course: Appliantology 101 - Your Guide to the Ultimate Appliance Repair Information Tool
---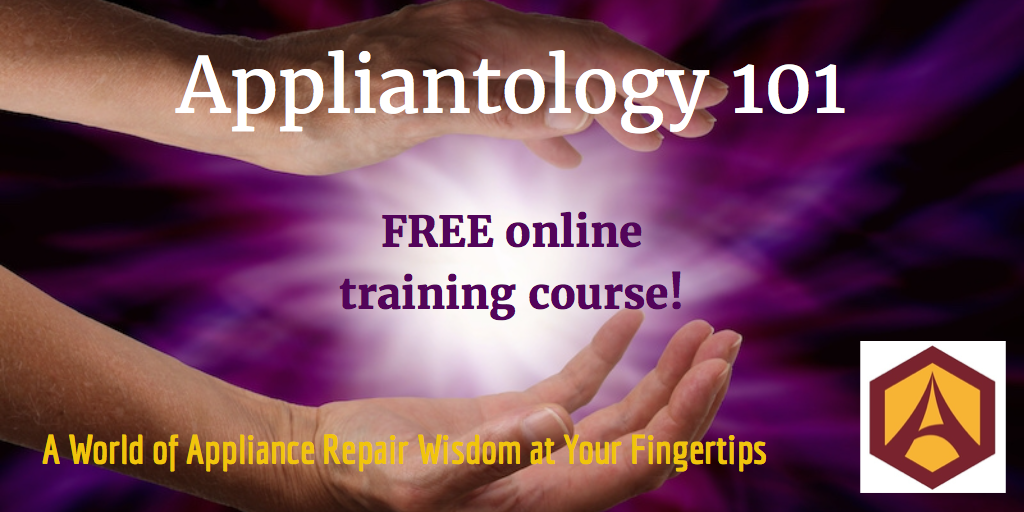 The internet has been a game-changer for the appliance repair industry. But it only works for you if you know how to work it!
Information is key. Professional appliance repair techs work on so many brands and models that access to manuals for disassembly info, schematics, and specifications is a big factor in the success of the repair. 
And with the increase in computerization of appliances, war-gaming the service call ahead of time has become critical for increasing first-call completes, decreasing reliance on time-wasting and unpredictable tech lines, and increasing customer satisfaction - and yours! And you can't war game without the info ahead of time.
Back in the old days, we had shelves overflowing with annoying paper copies of manuals, VHS videos to scrub through, and tech lines operators to wait on hold for. Thankfully, those days are over!
Now we have Appliantology: the web's premier appliance repair tech support site. 
Appliantology is rich and deep with resources for the professional tech: repair forums with world-class peer-to-peer tech support, live chat and tech help, service manual downloads for all makes and models, live training webinars, and exclusive tech training videos.
But like any powerful tool, it's only as useful as your ability to avail yourself of its many treasures.
Some of our professional tech members sign up and only come around every now and then, and then wonder if the membership fee was worth it. It's disappointing to invest in something and then not really know how to take advantage of it. 
The Samurai sheds a tear for every Professional Appliantologist who barely scratches the surface of the site and never sees the power and beauty within!
Others learn how to use the site fully, unleashing Appliantology's power to amp up their repair mojo, and then ask us how we can offer such an amazing resource at such a low annual fee.
A Professional Appliantologist membership is $149/year, that's less than $3 per week.
When you are well-prepared for your jobs, you will not only be more profitable, but you will have more fun doing it. Who doesn't want that?
To take the free Appliantology 101 short course, all you need is a free registration at Master Samurai Tech which you can get here. 
If you already have a student account just make sure you are logged in and you'll see it in your course listings on your login/welcome page.
Take our FREE short course, Appliantology 101, and see how easy it is to get started with the awesome functionality of the site, and then dive deeper into how to really take your work to the next level!