Hello, my infidel friends. Today, I would like to share with you a sad tale which illustrates the cultural distinction between the low-brow Arab people and the much more refined Pashtun and Tajik tribes of Afghanistan:
Quote

 

Customs officers at the Hamad International Airport, in the Qatari capital, have arrested a Yemeni man attempting to smuggle more than 12 kilograms (27 lbs) of sliced bacon hidden in his anal cavity.

53-year old Abd al Rahman Shamoun, was spotted by a specially trained police dog, looking for drugs or pork meat on passengers and in their luggage.

He appeared visibly nervous and sweaty, so the customs took him in a separate office for a more thorough search and investigation.

The search revealed 4 larges condoms hidden in his anal cavity, each containing more than 3 kilograms of bacon.

 
The full story is published here.
You see, here in Afghanistan we do not have such problems as discussed in the above article, for we consume the "bacon" of male yak. Since it is made not from pigs, our "bacon" is halal, that is, it is permitted under the Sharia laws of Allah, the Merciful and Compassionate, who irritates the bowels of the wicked.
This article is but one of many examples of Arab dull-wittedness. Had Abd al Rahman Shamoun known about the enlightened Afghani yak "bacon" delicacy, he would not have needed to smuggle the unclean pig flesh in his even more unclean rectum. 
It is true that my sand-slinging Arabian brethren have a rather difficult time telling the two flesh meats apart since they have no yaks in Arab countries. But penis of yak is an ancient delicacy among the the Pashtun and Tajik peoples of Afghanistan.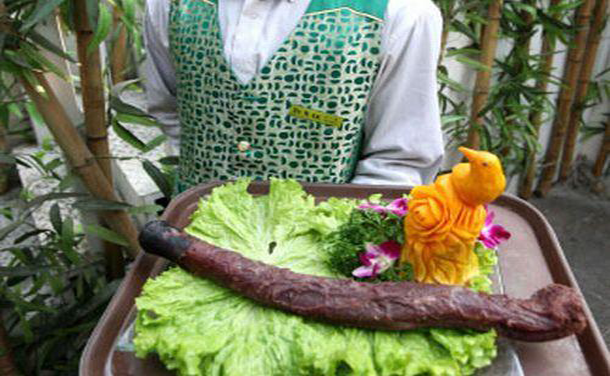 Although harvesting the "bacon" of male yaks leaves them neutered and impotent, the smoky, salty delicacy is a cherished part of our tribal bonding rituals.
I would like to point out the squirreling away of items in one's rectum is an age-old technique of my people to hide our possessions, few they may be, from the many infidel invaders who have troubled our country in the past. It is part of the standard education of all boys here in genteel Afghanistan. Yes, I remember being a young boy and the extreme discomfort whenever I sat down.
This man in the news article was–how do you say in Ameedica–an amateur. While I was in the elite Appliance Repair Corps of the feared Mujahideen warriors, I once carried my entire tool bag in my rectum for 50 miles past military checkpoints just to repair one, smelly washing machine. I have never been structurally the same since that day though. We shall see what happens to the man in this article, for my keffiyeh-wearing cousins are known to overreact.
Allahu Akbar!
Moostafa