NHA reviews Tide's new hazardous laundry product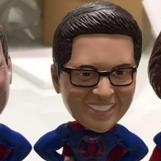 Entry posted by beyonddoubt ·
4,620 views
Tide's Laundry Pod Peeps: America's Favorite Easter Treat Is Here To Ruin Your Laundry
When Cascade released their Pumpkin Spice Scented Dishwasher Detergent last fall to great fanfare, the public quickly learned the downside to such gimmicks. The hint of pumpkin spice flavor that remained after a cleaning cycle was reported to affect the taste of everything from orange juice to re-heated Runzas.
The negative press and customer service demands that Cascade and its retailers had to endure quickly led to the product being removed from shelves. If you ever wondered if there was a limit to America's love affair with pumpkin spice, look no further than Cascade.
One would think that marketers had learned a quick, expensive, and hard lesson. One would be wrong. While shopping at our local Hy-Vee, we came across Tide's latest attempt to capture consumer attention (and it did capture our attention); Tide's Laundry Pod Peeps.
Since we at Nebraska Home Appliance care about the performance of your home appliances, we decided to offer our expert take on whether these gimmicky pods were worth your shopping dollar. How did we rate these? Read more at http://nhaparts.com/blog/peeps-laundry-detergent-review/