One Powerful Measurement Could Have Saved This Tech Hours of Troubleshooting...
---
Here's the situation: the tech is working on a dryer that keeps blowing its thermal fuse. The tech has already replaced the fuse once, and it's now blown again. What could be causing this, and what's the best way to tell?
We'll start by looking at the heater circuit -- an essential step in any troubleshooting plan.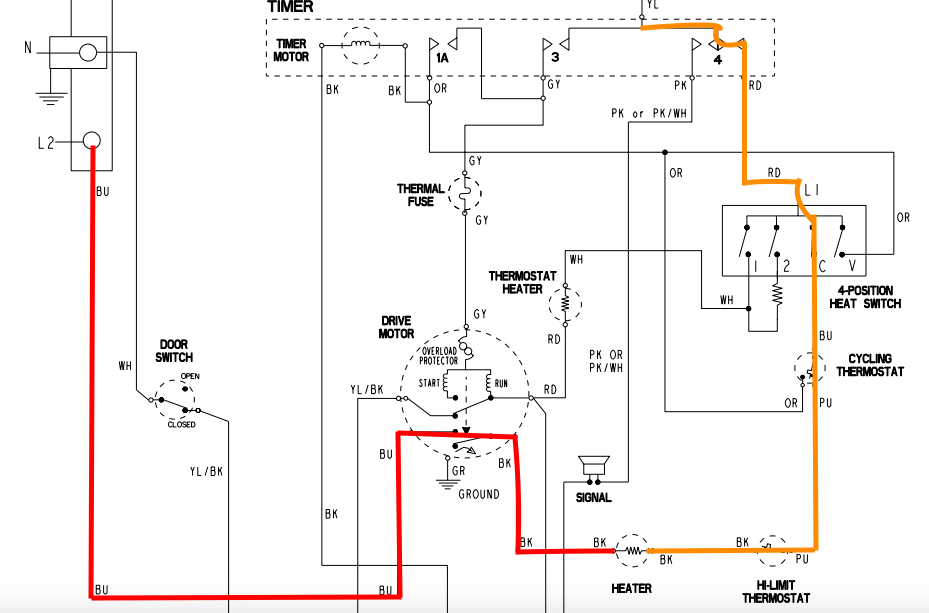 Pretty simple stuff. Just a cycling thermostat, a centrifugal switch, and a hi-limit thermostat. The thermal fuse that keeps blowing is the one in the motor circuit. It's a simple device: if it spends too long above a certain temperature, it will go open, preventing the dryer from running.
Now let's step through some possibilities.
1. A faulty cycling thermostat could cause the fuse to blow. If the cycling thermostat doesn't open every now and then, the heater could run for too long and blow the fuse.
2. If part of the heating element breaks off and makes a path to chassis ground, you'll have a part of the heater that is always running, which can blow the thermal fuse.
3. A plugged vent will prevent proper airflow, thus causing the thermal fuse to get too hot.
So where do you start? Is there a single, go-to measurement that you can make right off the bat that could help you immediately zero in on the problem?
Of course there is! In this situation, our tech should have made an amp measurement on the heater circuit.
Why? Because an amp measurement gives you a comprehensive overview of any AC circuit. If the circuit has the correct amperage reading, then you know that everything is in spec. You would measure amps on the heater circuit and then compare with the heater wattage, use a little Ohms Law mojo, P=I*E => I=P/E, and you got it. And if the circuit is electrically in spec, then we're left with only one possibility: an airflow problem, most likely the vent. This is something that we can very easily confirm by feeling the airflow on the output of the vent. And what do you know, in our tech's case, the vent is exactly what the problem turned out to be.
Pop quiz: Would you expect most problems in the heater circuit to cause the amps to be higher or lower than spec? Why? Great question! But rather than just tell you the answer, I'll refer you to a webinar we did on dryer case studies where one of the cases we studied was very similar to this one: repeatedly blowing thermal fuses. An amp measurement on the heater circuit would have identified the problem right off the bat. Premium tech members can watch that webinar recording here: 
Amps are a powerful and informative diagnostic measurement and they're so easy to do with a clamp-on ammeter. You should always try to incorporate them into your AC circuit troubleshooting, since they'll save you time and give you valuable information that might have been hard to find otherwise.
Want to step up your troubleshooting game to the next level? Check out our online Core appliance repair training course at the Master Samurai Tech Academy.
7