Disentangling Confusing Schematics and Customer Reports Explained in Less than 9 Minutes...
---
In this excerpt from one of the many technical training webinar recordings available to our members, we cover two tricky areas that have tripped up many a tech: deciphering an unclear schematic, and decoding a convoluted customer problem description. Both of these are essential skills for any tech, since if you mess up either of these steps, the entire rest of your troubleshooting will be thrown out of whack.
The troubleshooting framework that we're using in this video is our patented Ten-Step Tango -- a powerful tool for tackling even the most complicated of problems. This video briefly shows how to handle the first 4 steps, but if you want to learn how to really use the Tango, you'll want to check out our Core Appliance Repair Training course over at Master Samurai Tech.
Topics covered in this excerpt include:
Identifying different computer boards and their function
Finding the relevant parts of a customer's problem description
Locating and differentiating DC power and data lines
...and more!
Want to watch the full webinar and finish troubleshooting this problem? Click below -- viewable only by premium tech members.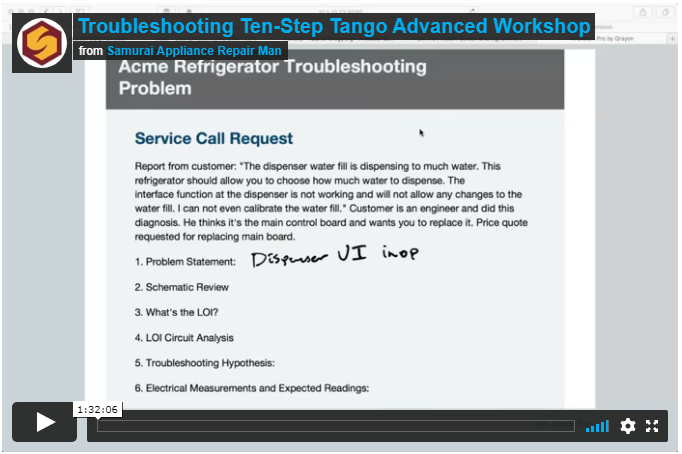 1