Death By Chocolate: what a sweet way to go!
---
This decadent dessert is a legend at our parish's Paschal (Easter) feast - the serving bowl is often literally licked clean when everyone is done! It's super easy because it relies on box mixes and Cool Whip, but somehow the combination of the various ingredients results in a surprisingly tasty and even elegant completed dish.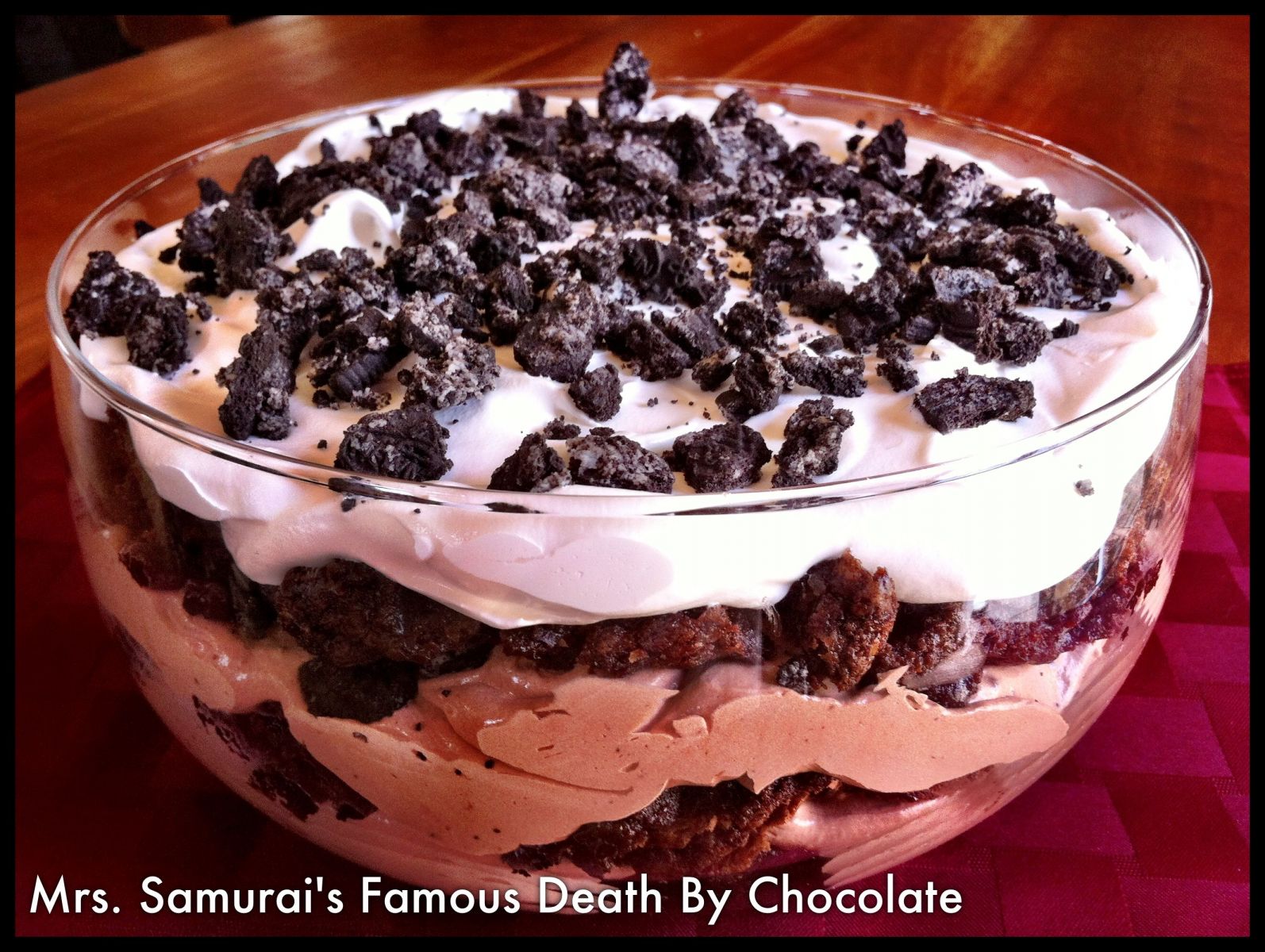 Ingredients:
1

box brownie mix, prepared (should be over 20 oz. box and use a 9x13 pan - see Note)




¼

c. coffee, optional




1

box chocolate instant pudding mix, 4 serving size




1 ½

cups cold milk




1-

8 oz. container Cool Whip




¼

bag creme-filled chocolate cookies (Oreos or Newman O's), crushed



Directions:
Prepare brownies as directed on the box. After you pull the pan out of the oven, poke some holes in the brownies with the end of a chopstick (or a similar item), and pour the coffee over the top of them (optional). Let cool.
Meanwhile, in a medium bowl, whisk the pudding mix with the cold milk. (I use a hand or stand mixer.)
Gently fold half of the Cool Whip into the pudding so you get a mousse-like consistency.
Now it's time to layer these ingredients into your serving bowl! A clear glass bowl is the most attractive, but anything will do. How you layer it depends on the shape of the bowl and if you are doubling (or tripling or quadrupling) the recipe. The basic order is: break up the brownies into large pieces and put a single layer in the bottom of the bowl. Top with the all the pudding, half of the cookie bits, then the rest of the brownies. End up with the remaining Cool Whip and sprinkle the top with the rest of the cookies.
I usually quadruple this recipe for a crowd, and use a big bowl, and end up repeating layers more than listed above.
Notes:
You need a brownie mix that is over 20 oz. and requires a 9x13 pan. I like the taste of the Ghirardelli brownies mixes best, but they are more like 18 oz. and use a smaller pan. So, I just make a little extra!
I'm not crazy about the nutritional quality of many of the ingredients - especially Cool Whip! My fantasy is to create a "real food" version of this by combining the recipes I have for homemade brownies, chocolate pudding, and real whipped cream, but I'm usually making a quadruple batch of this under time pressure and just haven't pulled it off yet. However, I do make a few choices that help - I use local raw milk, and when preparing the brownie mix I use melted coconut oil (refined) and local pastured eggs.
1