Entry posted by Mrs. Samurai ·
3,590 views
Here's a hearty and very satisfying casserole that in its original form is vegetarian, but is easy to convert to meaty if you like - just see the note at the end. This would be a great centerpiece for a Cinco de Mayo celebration, and much easier than an assembly-style meal like tacos or burritos (although those are fun if you have the time!)
Go from this...
to this...
It's so easy!
Ingredients:
2 jars salsa (use a good quality salsa, and choose the spiciness according to your taste. I use one mild and one medium, but I'm a little wimpy. Samurai would prefer it to be muy caliente!)

2 cans refried beans (I like Amy's brand, either traditional or black bean, usually found in the organic section of grocery stores)

1 package corn tortillas (look for organic, non-GMO. Healthiest brand is Food For Life's Sprouted Corn Tortillas, in the freezer section of many natural food stores or the organic section of some grocery stores.)

1 8-oz. package shredded cheese, jack or cheddar

½ bunch cilantro, chopped, optional

sour cream, avocado, scallions, tomatoes, shredded lettuce... as many toppings as you like!

Directions:
Preheat oven to 350 deg. F.
In a 9 x 13 inch baking dish, spread about 1/2 a jar of salsa on the bottom.
Put a third of the corn tortillas on top of the salsa, breaking them up as necessary to fit in a single layer and cover the bottom as much as possible. A little overlapping is fine. Most packages come with either 10 or 12 tortillas, so you'll use 3 or 4 for each layer.
Spread one can of the refried beans over the tortillas, then the other 1/2 jar of salsa, then about 1/3 of the shredded cheese. (These steps are pictured below - not that this is complicated, but pics are always fun!)
Repeat the layers of tortillas, beans, salsa, and cheese one more time.
Finish with a final layer of tortillas and the remaining salsa (smear around to cover the edges of the tortillas) and top with the cheese.
Cover the dish with foil and bake for about 40 minutes, until all bubbly. Remove the foil, add the cilantro, if using, and bake for another 5-10 minutes until the cheese on top is like you want it.
Serve with sour cream or greek-style yogurt, and other optional veggie toppings.
NOTE:
You can make this a meaty concoction by simply adding or substituting seasoned, cooked meat to/for the refried beans. For example, I prepared 2 pounds of ground beef with 1 packet of taco seasoning and used that in place of the beans. This meaty version does especially well with some chopped veggie toppings (tomatoes, scallions, lettuce, etc.), since it is so hearty. Make sure your baking dish is a deeper lasagna-style one, since this version is a little thicker!
Photo documentation of the complicated layering process
Salsa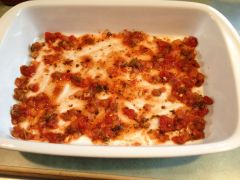 Tortillas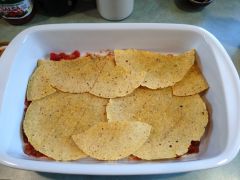 Refried Beans (and/or meat)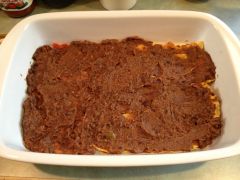 Salsa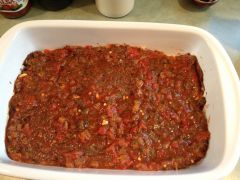 Cheese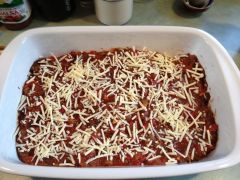 Then repeat those layers one more time (from tortillas through cheese), finish with final layer of tortillas, salsa, then cheese. Here's what it looks like when done baking! (I added the cilantro in the last 5 minutes or so of cooking.)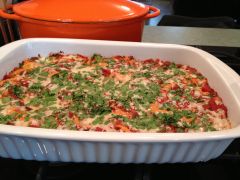 3