When the Tech Sheet Lies...
---
Tell me what's wrong with this picture: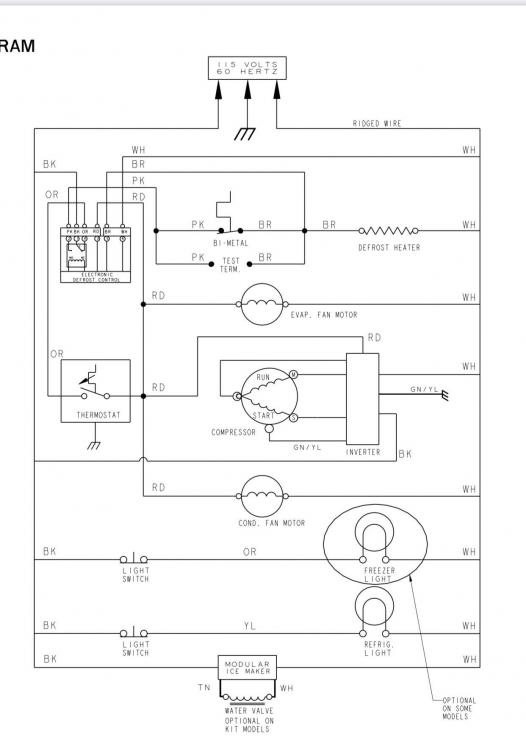 No, your eyes are not playing tricks on you -- that schematic really is showing a split-phase compressor being run by an inverter board.
If you're sitting there sputtering and foaming at the mouth in disbelief, thinking, "That can't possibly be correct," then congrats! You had the correct reaction. What this diagram is showing simply can't line up with reality. Split-phase motors are never run using inverter boards -- the very idea is nonsensical. This particular model does indeed have an inverter board, but as you might expect, the compressor is in actuality a BLDC motor.
What's going on here is nothing more than a bit of shoddy work from whoever put this tech sheet together (thank you, Whirlpool).  And it extends beyond just the schematic:

They even give winding specs for the compressor as if it's a split-phase motor! But if you do a resistance measurement across the coils of that motor, you'll see that they're all the same resistance, like you would expect for a BLDC motor.
We as techs rely on technical documentation to do our job. We need the schematics, we need the specs. But we also need to stay watchful and foster a functional understanding of the technology we're working with, because sometimes you need to call BS when the manufacturers give you bad info.
Want to get that functional understanding of the many technologies you'll encounter on your journey through appliance repair? Come get that at Master Samurai Tech. Also, if you're a premium tech member here at Appliantology, click here to give our webinar recordings a peek.
4