Coconut Lime Chicken Soup
---
Here's a Thai-inspired chicken soup that is easy to make and bursting with flavor! It's healthy comfort food with an Asian twist.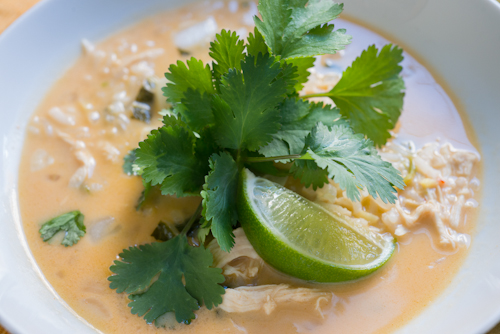 Ingredients
2 tablespoons coconut oil, ghee, or butter

1 onion, chopped

1-2 pounds uncooked chicken breast, diced

1 inch piece of fresh ginger, peeled and chopped fine

4 cloves garlic, minced, divided

1 quart chicken broth (I use either homemade or a box of low sodium, no added MSG.)

1 can coconut milk (look for this in the Asian/Thai section of the grocery store. I prefer regular, not "lite".)

1 lime, juiced, divided

¼ tsp. red pepper flakes

4 scallions, chopped

½ bunch cilantro, chopped

salt, to taste

optional: Thai fish sauce, cooked rice

Directions
Heat a soup pot over medium high heat, then add the coconut oil. Saute the onions with a little salt for a few minutes, then add the chicken chunks with a little more salt. Cook, stirring frequently, until chicken is just cooked through. Add the ginger and half of the garlic towards the end of this.
Stir in the broth and bring to a boil, then stir in the coconut milk, half of the lime juice, and the red pepper flakes. Reduce the heat to low and simmer covered for at least 15 minutes (longer is fine, too).
Turn off the heat, and add salt to taste (depends on the amount in your chicken broth). Stir in the rest of the garlic, the scallions, and most of the cilantro (leave a little aside for topping individual bowls). Add the rest of the lime juice if desired. Cover and let sit off-heat for 5 to 10 minutes, then serve.
Great served over rice. Add a few drops of fish sauce to your serving to knock the flavor out of the park!
3