Are Thermistors Interchangeable?
---
Thermistors are everywhere in appliances these days, and they're a relatively common-fail item, so wouldn't it be nice to stock a supply of them in your service vehicle to be used on any occasion?
Well, in order to determine how feasible that is, we need to answer a question: are all thermistors interchangeable?
The short answer is no. The long answer is that thermistors are not interchangeable brand-to-brand, but they can be interchangeable within the same brand, depending on the manufacturer.
Here's an example. This table is from a Samsung refrigerator manual:
Compare that to this spec table from a Whirlpool manual.

It only gives a single data point (typical Whirlpool), but we can at least compare that to the Samsung table. While 25 C in this Whirlpool fridge corresponds, to 2,700 ohms, in the Samsung it corresponds to 5,039 ohms. That's a big difference!
Speaking of Samsung, they're one of those brands where, as a general rule, their thermistors are all interchangeable. The only difference between them is the harness, which can be clipped and spliced in a pinch. So if you work on a lot of Samsungs, it may be worth keeping a stock of Samsung thermistors for general use.
If you're so inclined to keep Samsung thermistors on hand, then DA32-10109W is a good part number to replace any thermistor you find inside the box (thanks to Brother @Vance R for the recommendation).
Want to learn more about thermistors? Click below to watch a webinar recording about thermistors in refrigerators and how to troubleshoot them -- available only to premium members.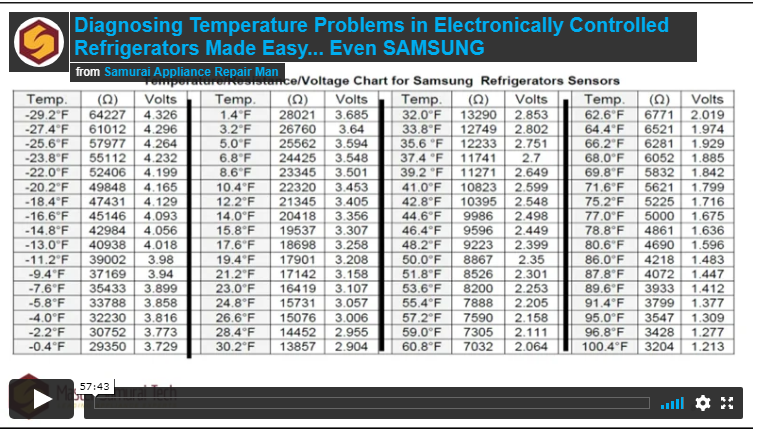 4